How Our Unclaimed Money Search Works
Cashunclaimed.com is one of the largest databases for unclaimed money in the world. Our current database lists billions of dollars in unclaimed money, property, accounts and assets from all 50 states and several Federal agencies that could belong to you. There are millions of people who are owed unclaimed money and they don't even know it! Are you one of these people?
Who is holding this unclaimed money?
The found money we locate is being held by one or more of many different institutions. Our research has uncovered millions of unclaimed and lost money owed to individuals in:
forgotten savings and checking accounts
uncashed checks
securities
dividends
insurance refunds or claims
oil royalties
wages
utility refunds/deposits
bail bonds
child support payments
the list goes on and on...
Also, hundreds of thousands of people are owed money as an heir to an inheritance that they didn't even know about!
Why is the money "unclaimed"?
For one reason or another the financial institution holding the funds has been unable to locate the rightful owners to return the money. So, literally billions of dollars sit in unclaimed accounts across the nation year after year. This money is lost and never gets found unless the owners of the unclaimed funds use a property locator service like Cash Unclaimed Money Search.
For instance, have you ever:
moved without checking to be sure every company and person you do business with knew your new address?
moved without getting your utility deposit refund back?
opened a savings account as a child or for your own child and then forgot about it?
forgot to cash a health insurance check?
forgot to cash interest or dividend checks on stocks or bonds?
Quit or been fired from a job and never gone back to get your last paycheck?
Didn't notify companies who owe you money that you have moved?
This list covers only a small fraction of the possible reasons why you may be owed money!
How Does Cash Unclaimed Work?
We have compiled a database of millions of people owed money in all 50 states. Our proprietary database containing over 300 million potential claims is not available from any other private or government website. If your name is in our lost cash database, there is a good chance you have lost money owed to you. The only way to be 100% certain whether the found money is yours is to submit a claim!
We've also created easy to follow instructions, help documents, ebooks & sample claim forms to assist you with the process of claiming your funds once you locate them.
Unclaimed Property may be located throughout various different states, federal agencies and organizations. It is tedious to look through all of them individually, With CashUnclaimed it's easy for you to search ever single one of them with one easy to use search feature. We'll look through over 300 million potential claims every time you do a search!
Once you find a match, we give all our members complete instructions including help documents, ebooks & sample claim forms to assist you with the process of claiming your funds once you locate them.
We also offer optional claim monitoring if you'd like to have that. We'll constantly search through our sources looking for new claims that come available and we'll notify you as soon as they do.
We are not an unclaimed property locator service and do not charge you a percentage of the money you claim. We are only an information service that provides you access to our huge database. We provide you tips and information on how to claim your money, but we do not actually claim the money for you.
You will receive unlimited instant access to all of the lost cash records in our database and all our tools, education and ebooks for as long as you remain a member. The unclaimed money records will include the name, phone number and location of the institution(s) holding the money as well as the instructions you will need to claim the found money!
Here's An Example Of Our Paid Member's Search: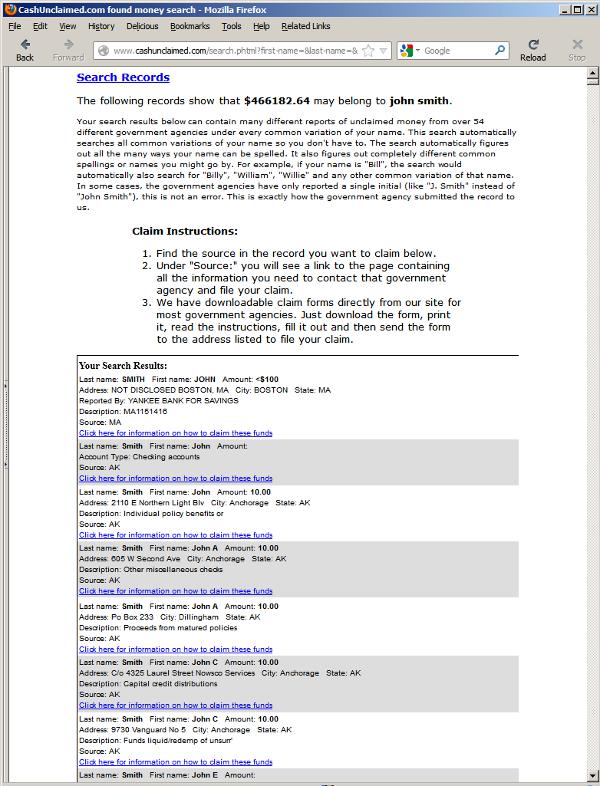 Our Trial Search:
We also offer a free trial search on our homepage that lets you take a "sneak peek" inside our database. These records are limited and do not show you the full information needed to submit a claim. In order to unlock the full information about these records you must purchase a premium subscription.
The Risks: There is a risk with the free trial search that you locate funds that belong to someone with the same name or same first initial as you. Don't worry though... Once you upgrade to your premium membership you'll still have unlimited personal access to search for family members and friends and help them claim money too. Plus new money becomes unclaimed every day and even if none is showing for you today... that could change tomorrow.
Our fees...
Cash Unclaimed Money Search charge a very small fee to help cover our expenses. Access to our help, services and search tools range from $11 to $129 depending on which services you decide to order. Depending on how many lost money searches you perform, you could pay just pennies per unclaimed money search.
We currently offer 3 payment options:
1-Time Payment for 12 months of access
1-Time Payment for lifetime access
Monthly Automatic Recurring Subscription that renews automaticaly every month untill you cancel. Of course you can cancel at any time by visiting our Support Desk & following the simple instructions.
You can even use your unlimited searches to find money owed to friends, family and co-workers. Once you sign up, you are free to do anything you wish with the unclaimed money and property records you access.
If your name is listed, you will have to contact the institution listed as holding the money. We do not claim your money for you. You must do that. In addition to filling out a claim form, proof of ID will be need to be provided to whichever agency is holding your money - most likely one or more of the following:
Social Security Number
Birth Certificates
Marriage Certificates
Death Certificates
Proof of Previous Addresses
Identification such as Drivers Licenses or Passports.