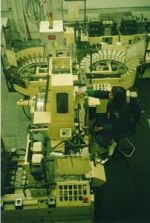 When money is printed at the Federal Reserve and then put into circulation, what happens to it? How do you, for example, get your hands on some of that money? If you're like the average person, you must get a job in order to earn the money you use to pay bills and enjoy life. Your boss pays you out of the company's profits and the company originally received money to open from a bank loan or possibly an inheritance. Sometimes, business owners may make money via other means before they open other businesses. Now you may see how the money sort of trickles down from the top. Once it's made, it is then accounted for by you who usually sticks it into a bank account. It's here that sometimes things get messy.
How Money is Accounted For
The Federal Reserve knows exactly how many dollars they print each year. Each dollar bill denomination has a serial number that can be individually identified. Yet even still, sometimes money gets lost. When you make money and pay bills, you usually know exactly how much you have left over. Yet every year people abandon bank accounts with nominal amounts in them, they abandon trade accounts and they may forget about a tax return from years ago. When money becomes lost, there's only one thing to do, search for it.
How Money is Made and then Found
Let's just say you make a hundred dollars and you put twenty dollars of it away into a bank account. If you suddenly move without closing that bank account or simply loose track of it due to the low account balance, then you have just contributed to the lost money problem that is continuing to grow nationwide. Besides keeping better track of your finances in general, all you really have to do to help solve this problem and keep it from continuing to grow completely out of hand, is search for it. Then you will finally be able to identify any forgotten about bank accounts under your name and then claim the money as your own.
Once you find any type of account or amount of money in the nationwide database under your name you just have to take the next steps to claim it. It is usually pretty simple to make a claim and show proof of ownership. With an updates address with the local post office or by faxing or emailing over a copy of your state ID you should be well on your way to getting the money transferred right back into your own personal bank account. Or at least one that is currently in use! Right now millions of Americans have lost or missing money out there across this country in their names or in the names of their loved ones.
With so much money to account for, the country's treasurers can't possibly call every person on their lists. They don't even have the time or ability to track them all down by sending out mail or letters on the topic. This means that each and every individual that has contributed as a US citizen must search for any missing money if they ever hope to find it. Search for lost or missing money today now that you know how money is created and printed, how it is accounted for and how it ultimately gets lost.